By Kyle Jackson
Gary Duffy has been performing for a long time, but it wasn't until recently that he decided to pursue his passion in a bigger way. We had a chat with Gary Duffy to discuss what made him pursue a professional music career, how he channeled his own inner confidence to pursue his goals, and what's next for this rising pop talent!
Kyle Jackson: Hi Gary! When did you begin singing and writing your own songs?
Gary Duffy: Hi Kyle! Well, I began singing from a very young age — I would say probably about 6 or 7. I've always been musical; singing has always been my passion in life, but I only started writing my own music in 2020. 2020 has been a tough year for everybody, but I put that to good use. Starting to work on my own original music is the best thing I could have ever done.
KJ: When did you know that you wanted to pursue a singing career?
GD: Well, as I said before singing has always kind of been there, and I've always had musicality in me with theatre and acting and all that sort of stuff growing up. But I would say that only in the last four years I really wanted to pursue music as a career.
I remember one night on stage I was singing and dancing on my own, and finally the self-belief clicked in my brain — I finally believed in my talents and myself. The audience gave me a standing ovation and I just felt it in my own heart that's what I wanted to do forever.
KJ: What would you say is your musical style and influences?
GD: I would say that my musical style is pop with a side of soul. It's music that you can get up and dance to whilst also relating to the lyrics. It needs to make you feel something. I love to sing a ballad. The first song that I released, "Did You Ever Really Love Me?", was a ballad. I just love anything that can make you feel.
On the other hand, I love the songs that can make you get up and dance and that's definitely what 2020 has been missing — dancing! My second single, "Going Nowhere", is a club banger that you just wanna get up and dance to, and I just can't wait to experience that in a club!
My influencers are 100% Sam Smith, Adele, Beyoncé, Becky Hill and so many more. The one thing that all of these artists have in common is that they make great, relatable and memorable music, and that's who I am as an artist. I want people to remember my music, my lyrics and how I made them feel when they listened to it.
KJ: You have just released your second single "Going Nowhere" and your first album Everything I Wanted. Can you tell us why you decided to release "Going Nowhere" and a bit more about the album?
GD: When I started writing "Going Nowhere", I knew that had to be the next single. The reason being was because it was just me as an artist. The song is so upbeat and catchy, but the lyrics were still so relatable and made you feel like you knew exactly what I was talking about. The song has performed so well here in Belfast and now I just want more and more people to hear it.
With the album Everything I Wanted, I decided to do a physical CD to start off with. The CD is made up of 12 tracks — three originals and nine covers. Every song on the album means so much to me and plays a part in the belief I have in myself.
For instance, I have recorded a cover of "Dancing On My Own", which was the first song that made me believe in myself. There's so many other tracks there that have helped me along the way to have the confidence that I do today.
The album is made up of ballads and upbeat tracks, so there really is something in there for everybody. The first batch of the physical CDs have been sold, and I've had to order more artwork to make up more CDs. Thank you to everybody that has purchased a CD, from Belfast to New York to Canada! The response has been amazing!
KJ: Do you have a release date for the third single and what's next for Gary Duffy?
Well, in Belfast we are currently in a six week lockdown, so there is no definite date for the next single. I have worked on a few songs, to be honest, and it's just really about choosing which one I want to release next.
Then, I have to get into the studio when I'm allowed to record and then a lot of planning has to go into the actual release. So there's no specific date, but I'm hoping no later than the end of February.
I can tell you that there are a lot of plans for 2021, including working to promote me as an artist and a brand with my management company Xpro Management. They are like my family at this stage, and it's only been a few months. We are working on so many exciting, big projects, and I really can't wait to be able to tell everybody more about that when the time comes.
Obviously, I plan to release more music and more music videos. I've already released two tracks with two music videos, which I am completely obsessed with. I am hoping to get into a bit of acting as well, so yeah… Stay tuned and keep an eye on all my social media. It's the best way to see what Gary Duffy gets up to next!
Follow Gary Duffy on Facebook, Instagram & YouTube.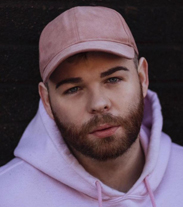 Thank you to Bear World Magazine where this interview originally appeared www.bearworldmag.com