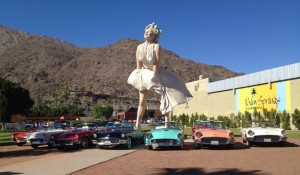 Forever Marilyn to spend the summer in Palm Springs
Just like a visitor who comes to Palm Springs for the warm weather, sunshine and friendly residents and doesn't want to return home, the Forever Marilyn sculpture will be extending its stay throughout the summer. The new departure date is now scheduled for early September.
"We are thrilled to have Forever Marilyn with us all summer long," said Aftab Dada, chairman of P.S. Resorts. "The sculpture has attracted thousands of visitors from around the world to Palm Springs and has generated global publicity. We will be creating additional events in the Forever Marilyn park this summer to bring even more people and attention to downtown."
The Forever Marilyn sculpture was scheduled to remain in Palm Springs through June, or for one year, but an arrangement made with the sculpture's owner is allowing it to stay here for an additional 90 days.
"This is great news for the City of Palm Springs," said Mayor Steve Pougnet. "Forever Marilyn is adored by our residents and visitors, alike. We're happy to have her for another three months while the demolition of Desert Fashion Plaza finishes and construction begins."
A special event to commemorate Marilyn Monroe's 86th Birthday:
Saturday, June 1, 6 PM
"Shaken, not Stirred" with "Richard & Mary" perform…
and more!
7:30 PM Jeffrey Allen as "Elton John"
Las Vegas entertainer Jeffrey Allen, best known for his performances as Sir Elton John in the review "Legends in Concert", headlines this free show, reprising his 2012 concert at Forever Marilyn which marked the 50th anniversary of Monroe's passing. With special guest Joey Covington – drummer with Jefferson Starship who has played with the real Elton John!
9:30 PM Birthday Cake: Celebrate Marilyn's birthday with free birthday cake provided by another Palm Springs landmark, Sherman's Deli.