Take Five – Five questions with Chris Mobley,
Board Chairman of Modernism Week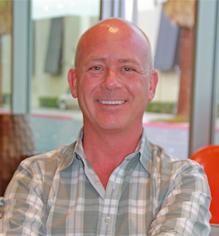 You opened your store Just Modern in 2011 in Palm Springs, and a year later became the board chairman of Modernism Week. How has one position helped the other?
We started Just Modern as an online business in 2011, and opened our store in the Uptown Design District in 2012. I am in direct contact with visitors and residents of Palm Springs on a daily basis, which provides a great opportunity to speak with people who have participated in Modernism Week and/or have an interest in what this area has to offer. It also gives me a chance to talk about the mission of Modernism Week, promote upcoming events, and receive feedback on ways to improve future events.
How has the Modernism Movement influenced you personally?  
As a child of the 60's, today's modernism movement creates a bit of nostalgia for me and also brings back a lot of fond memories.  Because "modernism" draws upon so many cultural movements, I feel that it allows me the freedom to experiment in my personal style and design esthetic. The midcentury modern period and Palm Springs lifestyle also influences our product lines at Just Modern.
Can you please give us a little bit of "Modernism 101" to help those who are not that familiar with Modernism Week?
Modernism Week is a celebration of midcentury modern design, architecture, art, fashion and culture in the greater Palm Springs area. It's basically an 11-day festival comprised of educational and entertaining events, including neighborhood tours, midcentury home tours, films, lectures, cocktail parties, dinners, live music, architectural bus tours, and more.
Every year Modernism Week gets better and better. What can attendees of this year's event anticipate?
In celebration of our 10th year, Modernism Week has doubled the number of Signature Home Tours, Neighborhood Tours and Architectural Bus Tours so that more people can experience the festival's most popular events. We have also expanded into other areas of the Coachella Valley with new home tours and bus tours in Rancho Mirage and Palm Desert. Also new this year is CAMP (Community and Meeting Place), which will be Modernism Week's central headquarters. The indoor/outdoor space will be open from 10 AM – 6 PM daily, and includes a Hospitality Suite, the Room & Board Lounge, a theater for films and lectures, cafe, Modern Marketplace, happy hours, book signings, art and live music.
What is your favorite event during Modernism Week?
This year I am especially looking forward to our 10th Anniversary Opening Night Party: Modernism Eclectic Dance Blast at CAMP, which has a Throwback Thursday theme. Of the annual events, my favorites are the neighborhood tours, architectural bus tours, and the Modernism Show and Sale.