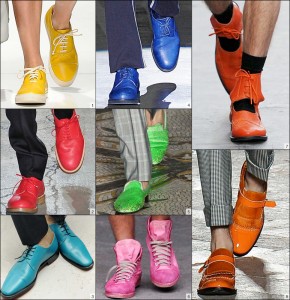 Straight off the runway
by Sandhya Valecha

Perhaps you are being nagged by your partner for not being stylish enough, or maybe you are getting on to a new job and you want to create the right impression. Whatever the reason that prompted you to look at men's fashion trends 2013 seriously, it is a good thing because the right fashion choices definitely add to the overall persona and greatly enhance your confidence too.
Without further ado, let us get right into the heart of the matter. Gentlemen, sit up and pay attention for we are about to unveil a few 2013 fashion trends for men.
Shine On Boys…for Style is in the Shine
One of the most interesting men's fashions trends 2013 is the incorporation of the metallic theme into the fabrics. This trend was observed particularly in the Milan Fashion week exhibited by big names such as Canali, Alexander Mcqueen, Burberry and others. Metallic fabric was represented in varying shades from brown to blue and even pinks. Shine on boys and raise the temperature several notches with this really hot trend.
Leather Trends
Leather is an important trend for men's fashion 2013. Of course, given the nature of the material it is a trend right now when winter is upon us. In addition, this trend will come again in the fall of 2013. While black leather has remained the mainstay of men's fashion collections for so far, in 2013, leather goes colorful for men. Available in darker tones of browns, blues greens and greys, this leather trend is sophisticated and classy.
Burst of Colors in 2013
Are you disappointed by the toned down colors in the leather trends for 2013? Don't be, because in other areas of fashion trends 2013 for men, there is a riot of colors, as you have never seen before. Bright blues, yellows, reds and even pinks are part of men's fashion 2013.
Do not miss the colorful shoes.
Spring 2013 shoe trends are bursting out in colors for you too. Runways in the Spring 2013 fashion shows saw a preponderance of colors as never seen before. Laced up shoes are big trends for summer 2013. Designed from the finest leather and in the subtlest of tones or bright printed variants or adorned with embellishments, the choices are endless this summer for all you fashionable men out there.
Camouflage Prints
The romance with prints is serious in men's fashions trends in 2013 and camouflage prints are hot. Most men I know will be more than happy to sport this trend because somehow camouflage has very masculine/macho connotations. Perhaps due to the association with military uniforms? Go ahead guys, and flaunt it.
Therefore, boys, these clothes are what you should be wearing in 2013 to be stylish, sophisticated men about the world. The trends are many and you have various options to choose from. Choose wisely from amongst the 2013 fashion trends for men those that you are most comfortable with.
For fashion that is forced looks silly and fashion that is favored looks stylish.
For more info on style and trends, visit Sandhya Valecha  at trendzstyle.com