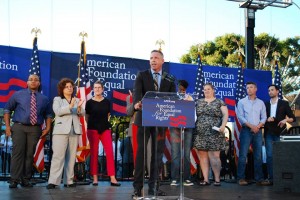 Beyond Marriage
By Jesse Melgar

June 26 will forever stand as a milestone in the long journey to equality for lesbian, gay, bisexual and transgender Americans. With the fall of both the Defense of Marriage Act and Prop. 8, our relationships are now equal, and all Californians are now more free.
But, our work does not begin and end with marriage. Our mission is full equality and absolutely nothing less. We stand atop a great victory in the Supreme Court, but that also gives us the vantage to see beyond marriage to the next hard climbs of equality.
Isn't an epidemic of bullying and youth suicide as pressing — if not more pressing — than the freedom to marry? Transgender people face discrimination, harassment, violence and economic injustice at alarmingly high levels. Some seniors are returning to the closet rather than facing harassment in nursing homes. While we have strong anti-discrimination laws in California, there is still no federal employment nondiscrimination law, leaving members of our community terribly vulnerable in 34 states.
The challenges still facing the LGBT community after decades of historic discrimination are all around us: The American Academy of Pediatrics reports that lesbian, gay and bisexual adolescents are victims of bullying twice as often as their straight peers. No more than 10 percent of American youth are LGBT but 40 percent of homeless youth are LGBT, according to the LGBT Youth Homeless Service Provider Survey. The journal Child Welfare reports that 62 percent of homeless LGBT youth have attempted suicide compared to 29 percent of their straight peers. According to the National Gay and Lesbian Task Force, LGBT elders often resist services designed to help them because of real or perceived discrimination. Harassment and discrimination is rampant in the transgender community. Unemployment for transgender people is twice the national average; 90 percent of employed transgender people have faced harassment at work; and 47 percent describe losing a job or promotion due to their gender identity, all according to the National Trans Discrimination Survey by the National Gay and Lesbian Task Force.
There is a temptation to see our victories with marriage as somehow completing our work. We must remember that equality will always be challenged. Just 24 hours before the rulings on marriage, the Supreme Court gutted the Voting Rights Act negating decades of policy protecting the right to vote for many Americans. The pro-choice movement had its landmark Supreme Court victory, Roe v. Wade, 40 years ago in 1973. Last year alone, in Congress and state legislatures across the country, there were over 2,000 pieces of legislation introduced with the intent of stripping women's reproductive health rights. Similarly, LGBT people will always need political power and vigilance against those who would hold us back out of prejudice, ignorance or malice.
Because we hold to the principles of equality with great integrity, we will continue our work beyond marriage. There were many with us on the campaign for marriage who agree that there are other pressing priorities. They supported us when we stumbled, felt the pain of our setbacks and shared the elation of our victory. Their solidarity came with an implicit promise that we would not forget them, that equality means more than marriage. Now that we have marriage, we must in no uncertain terms fulfill that promise and use the joy in our hearts to rededicate ourselves to securing full and lasting equality for every Californian.