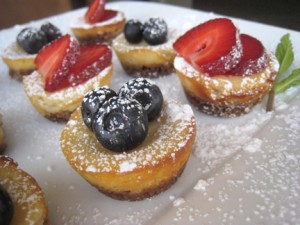 A Fashionable Brunch…as if there was any other kind?
by Chef Andre Carthen

From the runway to the table, your brunch should be fabulous, flavorful and just a little fierce. Whether you're entertaining 4 or 40 remember my golden entertaining rule – "Entertaining is all about making guest feel at home in your home! "
Your table should reflect your style, whether it's all white with a pop of color or an array of color and patterns don't be afraid to mix things up. Making food fashionable doesn't mean you should wear a banana skirt… unless you have the legs for it. It's all about presentation!
This brunch menu is uncomplicated, colorful, stylish and of course delicious.
*Veggie Baked Eggs
Roasted Asparagus with Crispy Prosciutto
*California Citrus Salad
Mini Cheesecakes with Fresh Fruit Coulis
Citrus Sparkle
* Chef Andre's recipes are featured in Janet Jackson's NY Times #1 best seller list True You,  get this book >  and on kathyireland.com
You're never quite sure what wine to serve here are our pairing picks:
*Villa Sandi "Il Fresco" Brut Prosecco, Veneto, Italy   $12.99
Also-served by the glass at The Parker Palm Springs
Chateau Saint Florin White Bordeaux, France (Sauvignon Blanc and Semillon grapes)  $11.99
Also-Served by the glass at Cuistot
Louis Jadot "Steel" Chardonnay, (Unoaked) Burgundy,
France  $16.99
Also-served at Johannes by the glass
Artuzuri Garnacha Rosado, (Light Rose) Navarra,Spain   $12.99
Also-served by the glass at Spencer's
Veggie Baked Eggs
2 tbsp sweet onion, thinly sliced
4 mushrooms, thinly sliced
2 tbsp chopped red bell pepper
1 tsp thyme
¼ tsp paprika
¼ tsp garlic powder
4 tbsp parmesan cheese or a low-fat cheese of choice
4 eggs
Salt
Pepper
Italian parsley, chopped
Cooking spray – butter flavor
Preheat oven to 325ºF
Spray 4 muffin tins or small oven-proof dishes with cooking spray.
Combine veggies and season with thyme, paprika and garlic powder.
Place equal amounts of vegetables in each tin, top each one with 1 tbsp of the cheese.
Break egg into each dish. Sprinkle lightly with salt, and pepper.
Bake, uncovered, until eggs are set to your liking (15 – 18 minutes).
Sprinkle with parsley before serving. Serves 4
Roasted Asparagus
1 bunch asparagus, ends trimmed
drizzle with olive oil
salt & pepper to taste
place in a 350ºF oven, roast for 12 – 15 minutes
Crispy Prosciutto
Place in oven along with asparagus, until crispy.
Remove and set aside.
Place Asparagus on serving platter and crumble Prosciutto on top.
Serves 4 – 6
California Citrus Salad
It's all about juicy, ripe citrus; We invite you to give this salad a try the next time you're serving up a Sunday Brunch, breakfast in bed, or even an afternoon refresher.
3 medium Oranges
2 medium Pink Grapefruit
1 medium white Grapefruit
1 cup sliced strawberries
2 tbsp. Honey
2 tbsp. Raspberry Vinegar
6 sprigs Fresh mint for garnish
Zest the rind of the two oranges. Set aside. Peel, section, and seed the oranges and grapefruits, removing white membrane. Set section aside.
In a large bowl mix honey and raspberry vinegar. Toss with orange, grapefruit sections and sliced strawberry.
Top with sprigs of fresh mint for garnish. Serves: 6
Mini Cheesecakes with Fresh Fruit Coulis
bite-size confections of creamy delights
½ cup finely crushed ginger cookies
2 tablespoons butter, melted
1/4 cup ricotta cheese
2 ounces cream cheese
1/4 cup sugar
1 tsp vanilla
1 egg
Butter, for greasing
Special equipment: mini muffin tin
Preheat the oven to 350º F.
Combine the crushed ginger cookies and the melted butter. Place a tightly packed teaspoon of the cookie mixture into each mini-muffin cup and press down firmly.
In a food processor combine the ricotta cheese, cream cheese, sugar, vanilla and the egg. Blend until smooth. Lightly grease the sides of the mini muffin tin with butter. Fill the cups with about 1 tbsp of the cheesecake mixture. Place the mini muffin tin in a baking dish and pour enough hot water in the baking dish to come halfway up the sides of the mini muffin tin. Bake for 25 minutes. Transfer the mini muffin tin to a wire rack and let cool for 30 minutes. Refrigerate for 15 minutes. Use a small knife to gently pop the cheesecakes out of the cups.
Just before serving, top each individual with fresh fruit coulis and serve. Serves 12
Fresh Fruit Coulis
2-3 tbsp powder sugar
1-2 cups very ripe fresh fruit, such as strawberries, raspberries, blackberries, peaches…
Option: for added flavor, mix in 1-2 tsp orange juice, or fruit flavored liqueur.
Place the fruit in a mixer or food processor/blender.
Pulse to break up fruit.
Add powder sugar and mix to form a puree. Add liqueur, mix.
Remove to a container & chill until required.
If the fruit contains seeds, push the fruit through a sieve to remove them before chilling.
Citrus Sparkle
Mimosas are great but this version is sure to give an extra zing to your brunch
1 tsp lime juice
1 tsp lemon juice
1/2 oz. Cointreau or other orange liqueur
Sparkling wine, chilled
Lemon twist, to garnish
In a Champagne flute, gently stir together the lime juice, lemon juice and orange liqueur. Top with sparkling wine, then garnish with a lemon twist.
Enjoy Responsibly!
The best parties should awaken all of your senses…don't forget you have 5 of them! Aromas (scented candles, florals), Visuals (color baby, whether it's a hint or themed throughout ), Touch (soft napkins, cushions), Sound (fabulous music) and most important of all….TASTE (great foods)! Chef Andre